Roger Colby
Teaching in the Pandemic Year
I am now nearly three weeks away from being through probably one of the most difficult years of my teaching career. I've been teaching now for nearly 23 years, and I have been through a lot of ups and downs, but never like the challenges I've had to face this school year.
I've endured the school shutting down several times, all of us wearing masks for safety, teaching virtually, teaching with desks in straight rows and six feet apart for contact tracing, stressed kids, stressed teachers, stressed administrators, stressed parents, relearning how to keep my kids on task, watching kids utterly fail, watching kids amazingly succeed and a plethora of other details that are too numerous to mention.
I am looking forward to finally having round tables again. I'm looking forward to doing projects where we all work together. I'm looking forward to letting my kids choose where they sit by drawing out poker chips from a bag. I want to let them come into my room at lunch and chill on a couch or on a comfy chair. I want them to raid my snack drawer. I want them to by all means have fun learning! I am looking forward to so much greatness next year.
I'm also going to just be thankful I still have a job after all the ups an downs and the crazy laws our state government passed (HB 1775 - Illegal to teach critical race theory?! Really?!... among other dumb things that drastically effect funding). We will make it, folks. Education will continue.
This summer I'll be a table leader at the AP reading (for Language & Comp) and I'll possibly teach some summer school. I'll prep for AP next year by digging into the books the kids will be reading (I haven't read some of them and that's exciting!). I'll go on vacation somewhere and I'll ride my new bike and I'll really enjoy my family.
I'll also write a novel and see it published.
More and more of us are also getting vaccinated against this horrible virus.
It's going to be a great year, folks. I'm looking forward to all the great stuff coming up. I'm (again) rethinking how I do school just like I do every year. This year will be so much better and different. I'm finally finding a way to make grading more equitable for all of my students, where I can measure real skill mastery and not be so tied down to grades. I just hope I can get away with it, because my students will benefit greatly.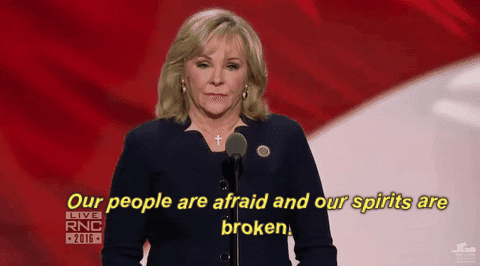 So if you are a teacher reading this, I know things are kind of a bummer right now, but things will get better. I've been through the years of Frank Henry who joked about killing us, Brad Henry who helped us get raises and made our lives better, Mary Fallin who (let's face it) was utterly insane and thought she could cut her way to prosperity, and now Kevin Stitt who signed bills into law that would prevent critical race theory and also make all high school kids have to pass a citizenship test to graduate (Imagine that.). We will get through this, just like we've endured everything else, and we will focus on what matters which is the education and deep love we have for our students.
Fight on.